Fun recipes to try out this Halloween
With the fall weather finally setting into place and with Halloween approaching, baking fall-themed goodies is becoming a hot hobby! Here are a few recipes that you can try out to get into the Halloween mood:
October 30, 2020
Caramel apples
Ingredients: 
8 large tart apples 

8 wooden chopsticks or skewers for handles

1 cup butter

2 cups packed brown sugar

1 cup light corn syrup

1 (14 ounce) can sweetened condensed milk

2 teaspoons vanilla extract
Instructions:
Bring a large saucepan of water to a boil. Dip apples in boiling water for a few seconds, then dry with paper towels to remove any wax from the peels. Set apples aside; when completely cool, insert a wooden chopstick firmly into the bottom of each apple for a handle.

Line a baking sheet with parchment paper.

Stir butter, brown sugar, corn syrup and sweetened condensed milk together in a saucepan over medium-high heat. Bring to a boil, stirring constantly and reduce heat to medium. Cook until a candy thermometer reads 248 degrees F (120 degrees C), 25 to 30 minutes; stir constantly to prevent burning. A teaspoon of the syrup, dropped in a glass of cold water, should form a firm ball. Remove caramel from heat and stir in vanilla extract.

Working quickly, dip each apple into the hot caramel to completely coat the apple and about 1/2 inch of the wooden handle. Sprinkle apples with any desired toppings while still hot. Let caramel apples cool on the parchment paper. Use caution, caramel is very hot.
Source: https://www.allrecipes.com/recipe/228210/the-best-caramel-apples/
Candy corn peanut butter cookies 
Ingredients: 
1/2 cup (1 stick) butter, softened

1/2 cup light brown sugar

1/4 cup granulated sugar

1 large egg

3/4 cup creamy peanut butter

1 teaspoon vanilla extract

½ teaspoon baking soda

1¼ cups all-purpose flour

candy corn for topping

about 3-4 per cookie

sugar for rolling cookie dough balls in

about 1/4 cup
Instructions: 
Heat oven to 350°. Prepare a cookie sheet by lining with parchment paper, silpat liner, or spray lightly with cooking spray.

Using an electric mixer, or stand mixer, cream together the butter, brown sugar, and granulated sugar until light in color and fluffy looking. About 1-2 minutes.

Add peanut butter, egg, and vanilla extract. Beat until combined and creamy.

Add the baking soda and flour and mix on low speed just until combined and no flour pockets remain.

Take about 2 tablespoons of dough and roll into a ball (should look like a golf ball). Place the additional 1/4 cup granulated sugar into a small bowl. Roll the dough balls in the sugar and place 12 cookie dough balls per cookie sheet.

Bake for 8-10 minutes. Cookies will still be puffy and the middle should not look wet when you pull them out.

Immediately, gently press 3-4 candy corn on top of each warm cookie. As you do this, the cookie will flatten slightly and look more like a cookie and not as puffy. Transfer the cookies to a cooling rack to cool completely.
Source: https://togetherasfamily.com/candy-corn-cookies/
Pumpkin cream cold brew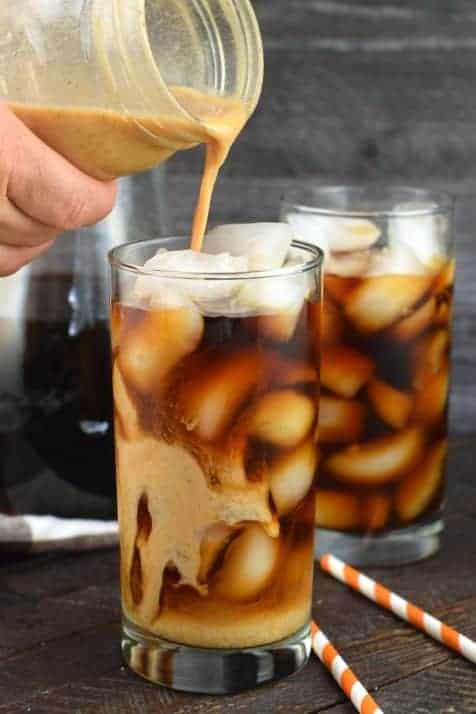 Ingredients: 
4 cups cold water

1 cup coarsely ground coffee beans

1 cup heavy whipping cream

1/2 cup sugar (optional)

1 tbsp pumpkin puree

1 tsp pumpkin pie spice

1 tsp vanilla extract
Instructions: 
For the cold brew coffee:
You'll need about 1 cup of coarse ground coffee beans. Add the ground coffee with 4 cups of COLD water to a pitcher. Stir and refrigerate for 12-24 hours.

Place a strainer with cheesecloth over a large pitcher or bowl. Slowly pour coffee (with grounds) into the cheesecloth lined strainer until all the liquid has filtered through.

Dilute cold brew concentrate with a 2:1 ratio of cold water and concentrate.
For the pumpkin cream:
In a saucepan, combine heavy cream, sugar, pumpkin puree, and pumpkin spice. Whisk over medium heat until sugar is dissolved and cream mixture begins to steam. DO NOT BOIL.

Remove from heat and whisk in the vanilla extract. Strain through a fine mesh strainer and transfer to a pint sized mason jar (or pitcher). Refrigerate until cool.

Once chilled, use a milk frother to froth the pumpkin cream or shake vigorously in a mason jar.
To make pumpkin cream cold brew coffee:
Fill large glass with ice. Add cold brew coffee, leaving space for cream.

Pour in the desired amount of frothy pumpkin cream. ENJOY.
Source: https://www.shugarysweets.com/pumpkin-cream-cold-brew/